quickly LEARN AND MASTER THIS PROvEn Avionic Suite
"Rich's avionics training is thorough, clear, and above all — useful! I'm never left in doubt and highly recommend his trainings."
~ Chuck G. CJ3 Owner
The Perfect Supplement to In-Person Training
COLLINS AEROSPACE PRO LINE 21 ONLINE TRAINING
Learn the ins and outs of the Pro Line 21 avionics system with our online training course. This course is perfect for pilots, technicians, and other aviation professionals who need to be familiar with this state-of-the-art system.
The course covers everything from the basics of the Pro Line 21 system to advanced topics such as flight management, weather radar, and communication. You'll learn how to operate the system effectively and safely, and you'll be prepared to take the FAA's Pro Line 21 certification exam.
The course is delivered online, so you can study at your own pace and from anywhere in the world.
Enroll today and start learning the Pro Line 21 avionics system!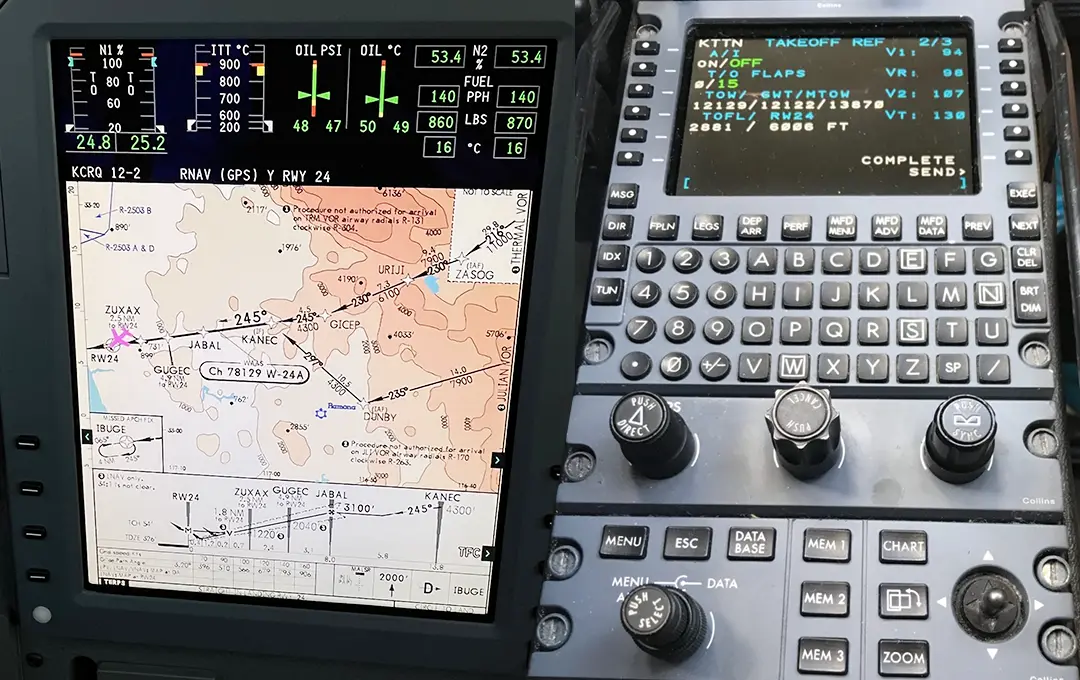 Airline FMS Reaches Owner Operators
Flight Management Systems (FMS) have been around for a long time. Originally reserved for the airlines, they've progressively been expanded to private and corporate general aviation aircraft.
FMS's like the Universal UNS-1 or Pro Line 4 have allowed pilots to generate flight plans and link navigation and communication instruments together in reliable fashion. And yet, there were still many growing pains and rigidity in the execution of these early FMS's.
Rockwell Collins changed the flight deck experience with the 2007 release of Pro Line 21™ Integrated Avionics System. The robustness, fast response, and clean/elegant display of information met the 21st century and started to grace popular aircraft such as the CitationJet series.
What Pro Line 21 Offers the Modern Pilot
With the advance of glass cockpits, LCD displays — Pro Line 21 takes advantage of these shifts to improve the user experience and enhance situational awareness (SA).
Features like fully coupled VNAV, RNP integration, and customizable displays allow pilots flying high performance aircraft effective tools and greater safety margins.
SA features like FMS Chartlink™ allow pilots to switch flight plans and receive almost instant updates to charts and plates to handle ATC changes. Charts are loaded effortlessly and can reduce the amount of head-down time and workload for the crew.
Another upgrade from earlier FMS's is the availability of XM Satellite Weather. While only covering the contiguous 48 states, this robust weather tool gives pilots graphical weather in color format displaying data from NEXRAD, METARs, Winds Aloft, Lightning, Turbulence, Icing and SIGMETs.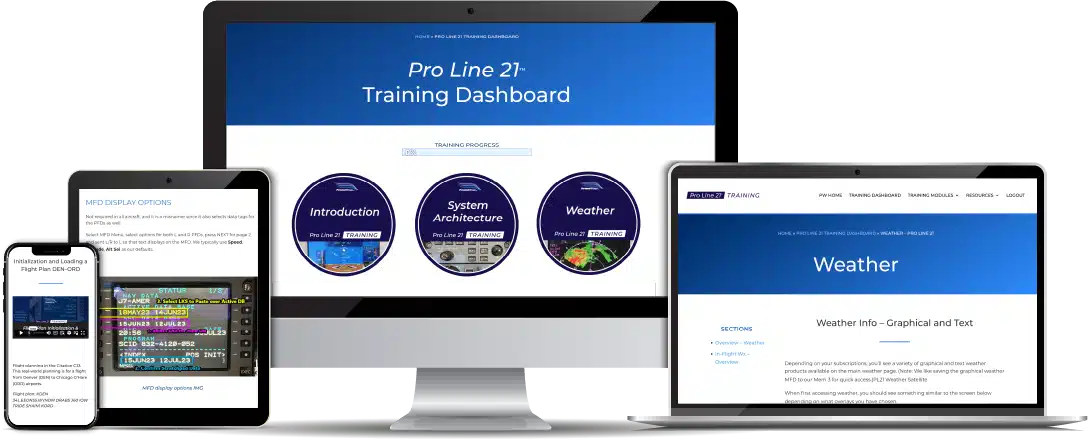 In depth training documentation, display screenshots, videos and resources for any Pro Line 21 equipped Aircraft.
What's Inside Your Training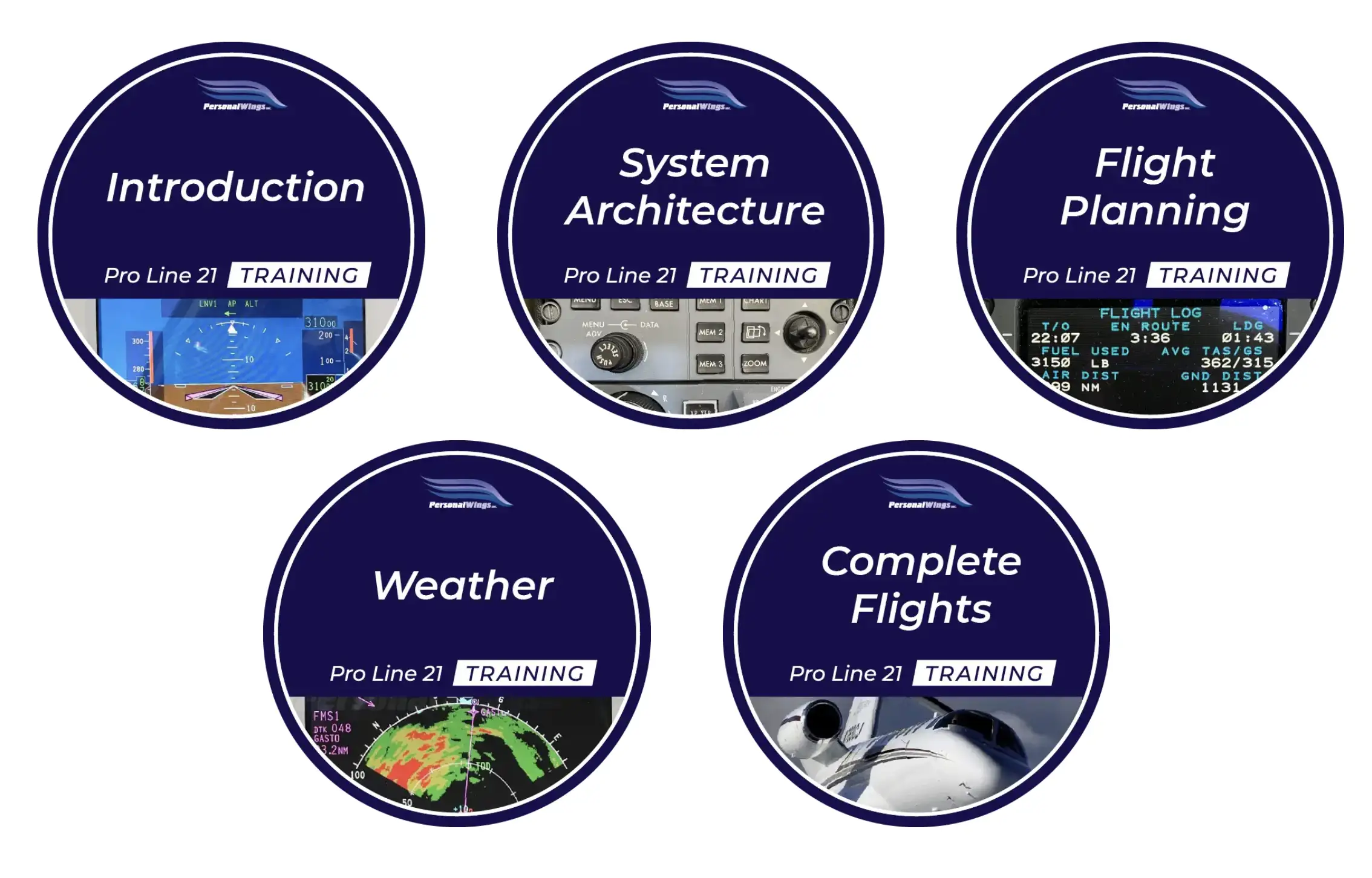 Your training program covers modules to prepare you for safely flying your Pro Line 21 equipped aircraft.
Learn All the Real World Features of Pro Line 21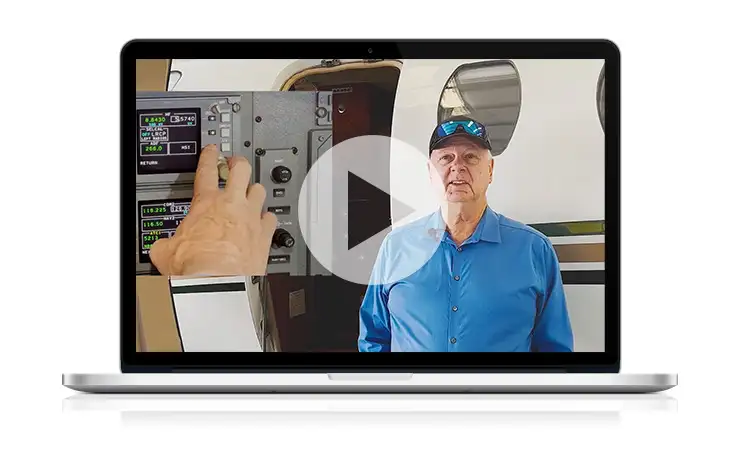 Rich takes you on an in depth walkthrough using real world Collins Pro Line 21 installations — from intro, systems, and the complete start-to-stop flights from takeoff through landing.
Walkthroughs Using Pro Line 21 in the Flightdeck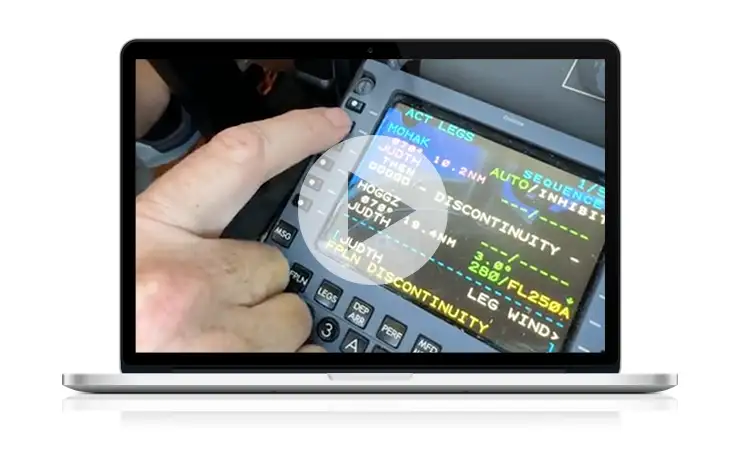 See how to create and navigate through the flight plan process using Collins Pro Line 21 in the cockpit.
Rich is an accomplished pilot with over 40 years of experience flying over 110 different types of aircraft.
Rich stays up to date with the latest technology in avionics, aircraft, and accessories to make flying both safe and fun.
When not training other pilots, brokering, volunteering for Angle Flight West, or dreaming up his latest aircraft product Rich can be found spending time with his wife and grandkids in the San Diego area.
Pro Line 21 Training
Enroll Today