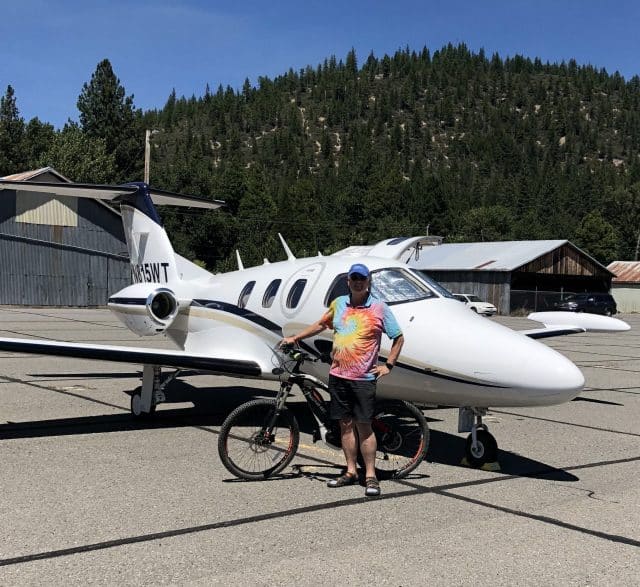 When I purchased our Eclipse 500 jet, which is an amazing airplane, I found that there were opportunities to make it easier for operators to take care of their airplanes.  I had always wanted to explore 3-D printing and this was a great chance to create some useful tools.
Working with our son, Tigre Pickett, we embarked on a fun design experience to create useful devices for Eclipse pilots.  It was simple,  I needed the accessories, they weren't available, so why not create them and improve the tools at the same time!
Eclipse Seat Release Tool
The Eclipse has an interesting seat design.  The six seats in the Eclipse 500 can removed after first disengaging the locking pawl on each corner of the seat.  This pawl is connected to a short cable that can be lifted from the locking position, when then allows easy removal of the seat…. once you now the tricks!
Eclipse at one point had the tool available, however the manufacturer no longer made the tool.  Tigre and I embarked on our first Eclipse 3D printing project.  I came up with the basic design, which was very close to the tool that was no longer available.   Tigre, using his design experience, generated our first prototype.  After four various versions we arrived at this tool:

Our first version worked perfectly, however when I tried to use one of the tools I found that it needed to be improved.  Underneath the seats, there may be very little light and to see the cable sometimes you need a flashlight.  I thought, why not create a tool with an integrated flashlight!  In this manner you would only need one hand to release the locking cable.  A new product was born!  Integrating a flashlight into a new version of the tool took several iterations to find the perfect combination of light and tool.  Our final lighted Eclipse Seat Release Tool makes it easy to locate the cable and release it, especially in low light conditions.

The test in actual use proved our concept, and the ease of use.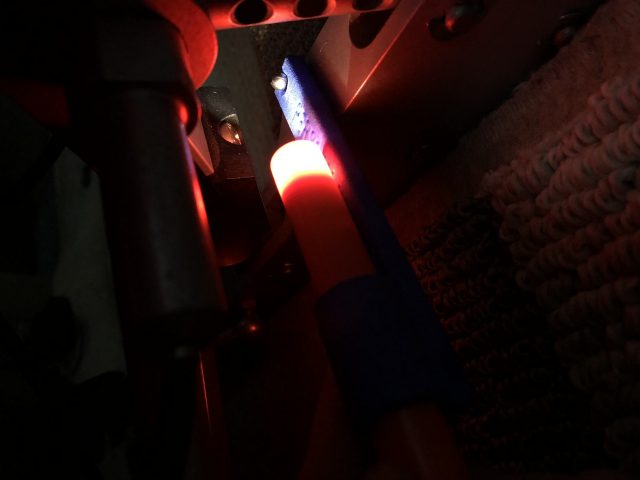 We also designed the tool to have an integrated flashlight storage capability, simply turn the light around!

Ordering your Eclipse Seat Release Tool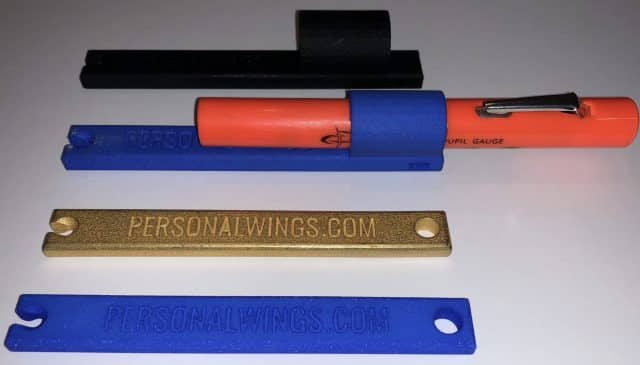 Either version of the tool can be ordered in high performance plastic, or stainless steel – both in various colors (white, black, blue, red, yellow, green, orange).  Steel infused with bronze (black, silver, gold) is much more expensive to make, however it is very cool!
Pricing:
Plastic – non-lighted       $30
Stainless steel -non-lighted    $60
Plastic – with light (light included)   $40
Stainless steel with light (light included)  $95
Extra flashlight – $2.50
Contact Rich at Rich@PersonalWings.com for more information or to order the Eclipse Seat Release Tool!
Eclipse Static Port Covers
The Eclipse has a rather unique static port installation, one that can be problematic with it rains.  The location of the port, on the top of the nose, can result in water ingress into the static system with associated issues.  There have been a number of solutions over the years, including the use of tape to cover the ports.  We decided to develop a custom solution that works well for the Eclipse jets.
Our goals were:
Utilize high quality materials that will provide a long life to the Eclipse pilots.
Accommodate the high temperature of the static port in situations where it had not completely cooled down to ambient temperature.
Provide an excellent seal against the elements, namely moisture.
Be easy to use, and superior visibility to avoid leaving them in place!
Avoid any dissimilar metal incompatibility issues.
Have yet another family design project.
Have fun designing the tool!
Starting with the basic concept of a cover, we designed several configurations and tested them on our Eclipse jet.  With each iteration we got closer to meeting our goals.  After nearly two months of development, we had our current version, the Personal Wings Eclipse Static Port Cover.
It took some time to source all of the materials for the design, from the Remove Before Flying (RBF) tags to the fasteners.  We tried various components, with an eye to provide a lightweight device that would last for some time.  For example, all of the commercially available RBF tags were either too heavy which increases weight and potential damage to the aircraft paint, or too bulky.  We decided to design our own from a high visibility and reflective material.  They are also so light that even in high winds they should not damage the paint.  It takes a lot more time to make them, however we like the result and we can improve it over time.
The Eclipse fuselage is curved, so we wanted to match that curve.  The net result is a static port cover that requires minimum force to secure to the aircraft and provide an excellent seal at the same time.  Our design utilizes high quality nylon fasteners,  to avoid any incompatibility issues with the jet static port and potentially get stuck!  Even if they do get stuck, it is easier to remove a plastic fastener than a metal one.  We tested the fasteners with considerably more force than even a ham-fisted pilot might use and they didn't break!
The seals are a high durometer silicone compound that is highly resistant to heat.    Silicone has a melting point of 330 degrees Celsius, so if a pilot accidentally leaves them on, at ground idle they reduce any potential damage to the airplane.  Nylon has a lower melting point,  220-265 C, which still provides some protection if they are inadvertently left on when starting the engines. All pilots using our covers need to do a careful preflight and remove them before starting the engines. Of course, we can't control what pilots may do, and are not responsible, however we wanted to expand their options!
They may not help in extreme precipitation events, however our testing so far indicates that virtually no water gets into the static ports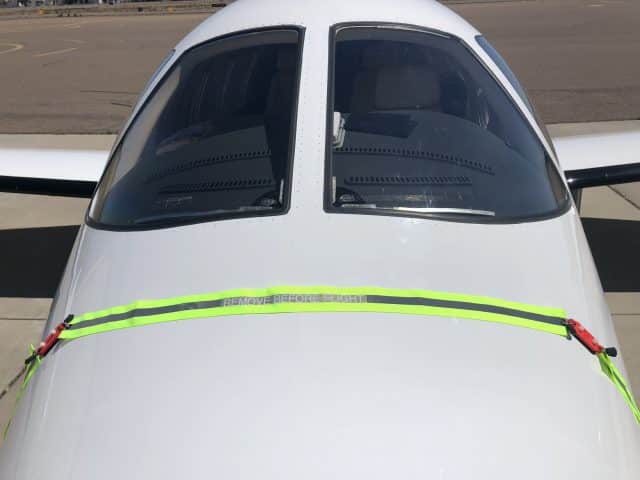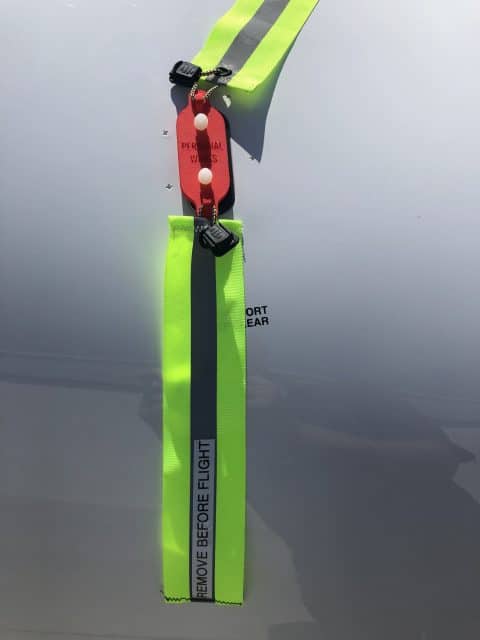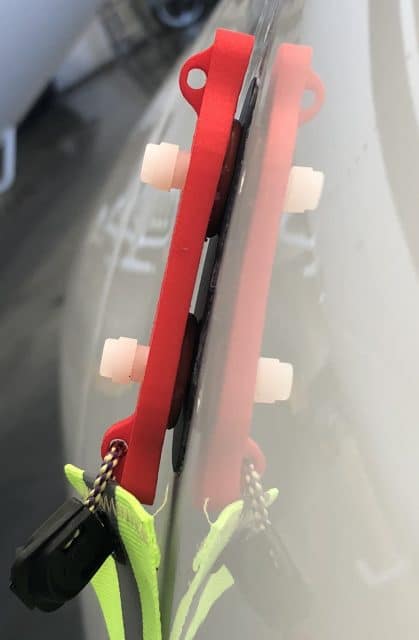 Ordering your Eclipse Static Port Cover
Pricing:
$160 for 2 complete static port covers, with nose 'Remove Before Flying' streamer.
Combination Order
Order any 2 or more items (seat tool, static port or pitot/AOA covers) and receive a 15% discount on the total order.
Each set is covered by our limited 6 month warranty.  Basically, if you lose any subpart (screws, seals, streamers, etc.) we will repair or replace, at our discretion, the defective component.  For an additional 6 months, we will repair at our cost of parts and return postage.
While we do our best to make a quality product that should seal very well, the purchaser assumes all responsibility for usability and effective use of the device.  Since we are constantly looking at ways to improve the product, the versions we ship may be slightly different than the photos above.
How to Order:
Contact Rich at Rich@PersonalWings.com for more information or to order the Static Covers.
Eclipse Pitot/AOA Covers
In looking at various options for pitot probe covers for the Eclipse I knew we could come up with a great solution.  After several designs, I settled on a high temperature, fiber reinforced  silicone option.  The material, while not intended for use on operating probes, can withstand up to 390 F.  They provide a very tight seal on the probes, and will stay on even in high winds.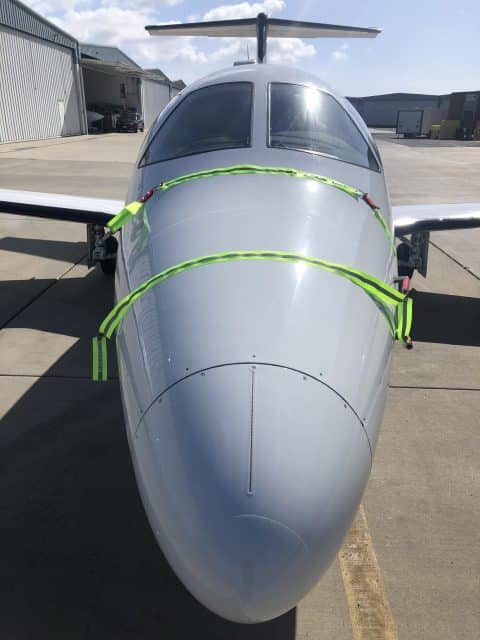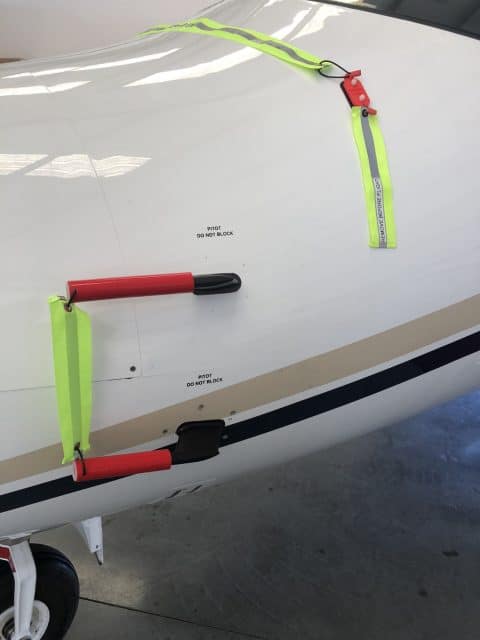 How to Order:
Pricing:
$150 for 1 complete pitot probe cover set (three probes)
Contact Rich at Rich@PersonalWings.com for more information or to order the Static Covers.
Combination Order
Order any 2 or more items (seat tool, static port or pitot/AOA covers) and receive a 15% discount on the total order.